You Don't Have to Take Our Word for It!

Here's what some of our satisfied customers have to say about Bert's Automotive: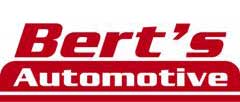 Bert, Linda and their whole staff are amazing!! Wont let anyone else touch my vehicles!!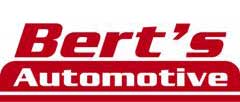 Bert's auto has excellent service. Everyone that works there is very friendly and will take the time to explain things do you. I highly recommend Bert's to anyone who needs automobile service.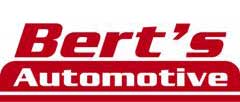 I've been a customer of Bert's Automotive for more than 15 years. Bert and his team are honest, hard working and never try to do things to your vehicle that really doesn't need to be done at that time. I trust them completely with all for cars we have. I feel they are more like friends and family than just experts in the auto industry... Nick, Joe, Bert, Linda and Sue... keep up the good work.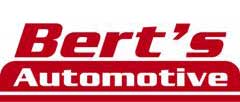 Bert's Automotive has always been honest in their dealings with me and they don't try to sell me something I don't need. They make the diagnosis, tell me what it takes to repair and how much it will cost, as well as the level of urgency there may or may not be so I can make the decision to postpone some repairs, if I choose, until a more convenient time. Not everyone can say they have a mechanic they can trust, and I am glad to say that I do. I highly recommend Bert's Automotive to all my friends and coworkers.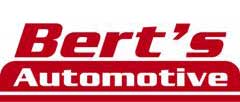 We have work done on all of our vehicles at Bert's Automotive. We cannot be more pleased with the service, work and HONEST conversations that we have with Bert, Linda, Joe, Nick, Sue and all of the guys who work there. I used to worry about being taken advantage of by people that I took my car to. When Bert's Automotive opened, my worries were over. I take my car there for regular oil changes, brakes, tires and anything else that might need to be taken care of with my car. I have recommended and referred several friends to Bert's Automotive and I will continue to do so. If you are looking for a dependable, honest and hardworking group of folks to take care of your vehicles, check out Bert's Automotive.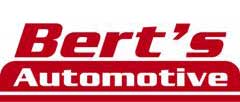 Bert's provided EXCELLENT service for us today! Just want to thank them so much! Highly recommended!!!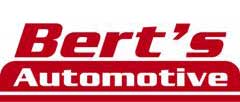 My husband and I have used Bert's Automotive for years and without fail they have gone above and beyond the call of duty to provide us with outstanding customer service. They helped us keep a very aged vehicle on the road for years and were quick to point out safety issues that should be repaired. Bert's staff went out of the way to find rebuilt parts for the vehicle saving us many dollars. In addition to providing outstanding customer service, all the staff members are always cheerful and greet you with a smile and probably a joke from Bert!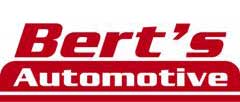 We have been customers of Bert's Automotive for almost 15 years and have multiple cars worked on at the shop. We have always found Bert and his staff to be honest, knowledgeable, and consistent. Bert has had most of the same hard working and dedicated employees for the 15 years we have been patrons. With some of the more expensive fixes, we have looked at dealership costs and other local repair shops and Bert's price is always competitive and most of the time less expensive than his competitors. Nothing has ever been unfairly priced at Bert's and I know I am getting the best quality service. Not to mention Bert and his employees always have smiles on their faces and make the experience an enjoyable one. We love Bert's!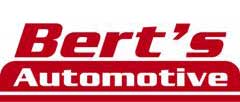 Bert's Automotive's has a very nice and friendly staff that is knowledgeable and honesty. I have been going to Bert's for years.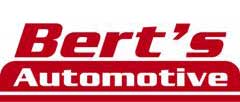 If you're looking for an auto mechanic that is honest, trustworthy and does great work, look no further. I have been using Bert's for years now and their service is excellent. Recently I got stranded in Pigeon Forge when my fuel pump went out and was forced to use a mechanic there. I made sure to call Bert's for their advice though and to make sure the mechanic in Pigeon Forge was doing me right. Can't say enough good things about the folks at Bert's Automotive.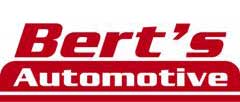 I am so thankful that I found Bert's Automotive yesterday. I was traveling alone from North Carolina to my home in Alabama. I was going home after spending time with my mom who has been in the hospital for 5 weeks. I happened to stop for gas in Duncan and and had someone point out an area on my tire that had been damaged and looked like it might blow out. It would have been dangerous to continue on I-85, so I searched for nearby auto shops. I decided to try Berts because they were close and had good reviews. I prayed that they would be honest and able to help as I drove to the shop. My prayers were answered! They were able to use my full size spare tire and had me back on the road less than 30 minutes later. When Bert told me there was no charge, he could tell I was emotional and he gave me a hug and wished me a safe trip home. Thank you Bert and staff for all you did to bless me!!! Y'all are amazing!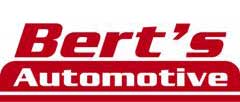 Going here for years. Very nice people and work is great. Had brakes done on both sets, two new tires, tires rotated, AND an alignment for $670. To take my car which is a 2012 Honda to the dealership FOR THE SAME THINGS to get done, was going to cost me $1700!! If you go here you will be very pleased and their work is guaranteed.
Discover More About Reviews and Repair Services At Bert's Automotive in Duncan

Auto Repair Near Van Buren
Auto Repair Near Dora
Signs That Your Car Needs A Mechanic